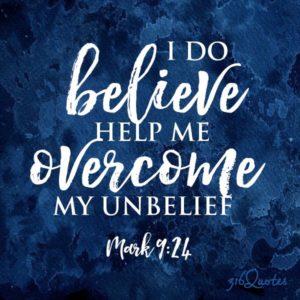 "Now you are the body of Christ,
and each one of you is a part of it"
I Corinthians 12:27
Trusting God in Uncertainty

May 2, 2020 by Glen Vanderkooi
One day after my stroke, when I was a patient at the neuro-rehabilitation hospital, I was joined for lunch by a large contingent of former co-workers.  That day, while I sat at the table in my wheelchair with my friends, Grandma Lois, an elderly friend of our family for many years, entered the dining area, walked to the table, and shared with me and everyone there.
Proverbs 3:5-6 – "Trust in the Lord with all your heart and lean not on your own understanding.  In all your ways acknowledge him and he will make straight your path."
When she shared these verses, it was a time, like today, of uncertainty as to what the future held.  The verses did not cause all uncertainty to go away or allow everything to come together for a "happily ever after" time.  It did, however, help me refocus on the truths of Scripture that I could trust God who "shows his love for us in that while we were still sinners, Christ died for us."  (Romans 5:8)
Also, I could glorify God by trusting him with the outcome; even in difficult circumstances (Daniel 3:16-18) and even if the outcome is not what I want (Habakkuk 3:17-18).
Daniel 3:16-18
16 Shadrach, Meshach and Abednego replied to him, "King Nebuchadnezzar, we do not need to defend ourselves before you in this matter. 17 If we are thrown into the blazing furnace, the God we serve is able to deliver us from it, and he will deliver us[a] from Your Majesty's hand. 18 But even if he does not, we want you to know, Your Majesty, that we will not serve your gods or worship the image of gold you have set up."
Habakkuk 3:17-18
17 Though the fig tree does not bud
and there are no grapes on the vines,
though the olive crop fails
and the fields produce no food,
though there are no sheep in the pen
and no cattle in the stalls,
18 yet I will rejoice in the Lord,
I will be joyful in God my Savior.
Because of these truths, the uncertainties of today become an opportunity for us to glorify God and to join the prayer of Jesus to the father in Mark  9:24,
"I believe, help my unbelief."
"Trusting God's Word glorifies God.  Why is this true?  It is true because trusting a person calls attention to the person's trustworthiness…[And] only warranted trust glorifies the one trusted." – John Piper
Prayer
Heavenly Father, we ask in this time of uncertainty that you help us refocus on the gift of salvation in Jesus Christ and to see that uncertainty as an opportunity to glorify you.  In Jesus' name Amen