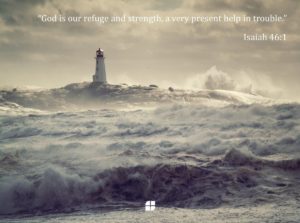 "Now you are the body of Christ,
and each one of you is a part of it"
I Corinthians 12:27
God Our Strong Tower
April 29, 2020 by Pastor Bob Bolt
My dad loved history and taught history for over 30 years.  Throughout his life, he saved magazines, newspapers, and articles that captured major historical moments. While cleaning out his condo, I found a November 1963 Life magazine all about John F. Kennedy after he had just been assassinated. I found articles during the early 70's on US troops pulling out of Viet Nam.  I found a Grand Rapids Press with a picture of the New York twin towers on fire with the words "America Under Attack" on the front page.  All shocking moments that I could remember in my lifetime (I was only five when President Kennedy was assassinated).
Why were these three events so impactful and unforgettable? All three turned our world of confidence and optimism upside down and shocked us to the core.  We optimistically looked to our young articulate handsome President Kennedy only to be gunned down by a sniper's bullet. We thought the USA was going to put a stop to the spread of communism in South East Asia only to be defeated by a much smaller and less sophisticated army than our own military power. Two towers that represented financial strength and security came tumbling down in a matter of hours.  All three events represent towers of strength in which confidence is created but a crisis can crumble.
In Psalm 48, the writer is fascinated by towers. As he walks around the city of Jerusalem, he is swept up in its glory and majesty and strength. He notices these tall towers built on city walls that rise above the city. Yet, the psalmist does not see the city with its strong impressive towers as being a mirror of strength and glory of man.  The city with all of its beauty is only a place of strength and beauty because God has taken up residence in this city!
He begins this psalm saying "Great is the Lord, and most worthy of praise in the city of our God, his holy mountain." The city is God's city.  He says "God is in her citadels he has shown himself to be her fortress". God is the one who defeats all enemies. At the end of the psalm, he encourages people to walk around the city to count the towers, consider her ramparts, and view her citadels. What you will conclude is that "God is our God forever and ever he will be our guide even to the end."
Towers don't lead to the triumph and trust in man but in God!
Towers were not only found on ancient city walls, but usually a tower was also constructed in the city center.  This tower usually housed the king and his family and stored emergency provisions. When a city was under attack, this was the safest place to be. No wonder, Psalm 61:3 refers to God being that "strong tower against the foe."  God is our king, our provider, and our invincible protector.
Earthly towers can be shaken and even destroyed. Strong economies can be brought to a standstill by one small invisible virus. Yet, God is our strong tower which means his majesty will never waver and his strength will never be overturned!
"God is our refuge and strength an ever-present help in times of trouble therefore we will not fear." (Psalm 46:1)