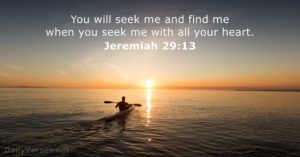 "Now you are the body of Christ,
and each one of you is a part of it"
I Corinthians 12:27
Hide and Seek
April 17, 2020 by Craig Cunningham
One of the things we liked to do as kids was play hide and seek.  Because of all the time we've had at home these days, I ended up playing it again last week with my boys.  I was amazed at how hard I had to look to find them (I'm not sure the dryer was engineered for this game so we now have a rule that appliances are off-limits).  I was also amazed that they found ways to be hidden in familiar places.
Familiar places. Right now we all miss the familiar places where we have found God before–like in church or in the faces of loved ones who have pointed us to Jesus in the past. Whatever the reason that keeps us from seeing God or hearing His voice, we are not alone.
Even King David cried out in Psalm 13, "How long, Lord? Will you forget me forever?  How long will you hide your face from me?"  He laments the closeness he once felt to his God and he longs for that familiar intimacy to return.  He longs to know for certain that the God of the universe is near and that He is working out His plans and purposes.
The people of Israel also knew what it was to face dwindling hope as they longed to return from exile to their land and to see God bring His blessing to their families once again.  In the midst of their trials, God spoke these familiar words through His prophet Jeremiah:
"For I know the plans I have for you," declares the Lord, "plans to prosper you and not to harm you, plans to give you hope and a future. Then you will call on me and come and pray to me, and I will listen to you. You will seek me and find me when you seek me with all your heart. I will be found by you," declares the Lord.
Jeremiah 29:11-14
God's message to his people was simple:  keep praying and keep looking for me. I have good things for you that are yet to come.   How easy it would have been for God's chosen people to think that they were God's forgotten people.  I'm sure they wondered at times if the goodness of God was something they would ever experience again.  Yet in the cloud of doubt God spoke these words of encouragement through the prophet that was like a breath of fresh air.  PLANS TO PROSPER YOU…
Today, we too face circumstances beyond our control and the enemies we face can be difficult to battle–whether it is COVID-19, financial hardships, loneliness or other afflictions.
But our God hasn't left us alone.  He sent us the Comforter, the Holy Spirit, who lives and works in each of us as believers.  We may get discouraged at times but God wants us to trust that He is faithful.  Nothing can stand in the way of His purposes.
The Lord is good to those whose hope is in him, to the one who seeks him; it is good to wait quietly for the salvation of the Lord.
Lamentations 3:25-26
Over the past few weeks, we are finding ways to keep ourselves busy at home until the stay at home order is lifted.  Maybe you are doing puzzles or board games or looking for extra charging ports for the overused electronic devices in your house.  Or maybe you've rediscovered an old game of Monopoly or Clue or hide and seek.
As you look for things to do, don't give up on looking for the God who is omnipresent.  He is in our homes even if we can't see him with our physical eyes.  Keep praying to Him and searching for Him with eyes of faith.  He has not hidden so well that He can't be found.  He wants to be found by you.
Prayer:
Lord, open our eyes to see you in our midst.  Help us to see Your hand working in our lives even when it seems at times that things are at a standstill.  Renew our hope for the future even when we don't know what tomorrow holds.  Bless those we love and those who no one loves.  AMEN.