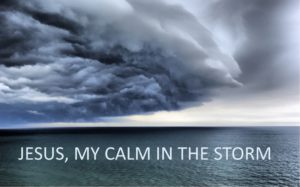 "Now you are the body of Christ, and each one of you is a part of it"
I Corinthians 12:27

"Jesus, my calm in the storm"
Friday, March 20, 2020 ~ Pastor Bob Bolt
Matthew 8:23-27
"I was scared to death!"
We say this when something unexpectedly, indescribably fearful pounces on us and rattles us to the core!
Matthew, Jesus' tax collector disciple, could remember the moment when he said this phrase, "I was scared to death!"  It happened the day, his rabbi, Jesus, jumped into a boat to cross the Sea of Galilee.  I can just imagine he had a little fear, being a non-experienced seaman like Peter, Andrew, James, and John, as he jumped in the boat that day.  He begins the story saying "Then He (Jesus) got into the boat and his disciples followed him. Without warning…." Matthew 8:23
Now here is where it gets interesting!   How is he going to describe what is about to hit them?  Matthew most likely spoke Aramaic but since the New Testament was written in Greek, he had to find a Greek word to describe this horrible thing that struck them.  He chooses the word "seismos"". A great "seismos" rose up on the lake.  Hmm… I've heard of English words similar to this word.  A seismologist studies earthquakes.  Seismic activity is usually related to a powerful earthquake. Matthew is trying to say that this is not just a bad storm or a pounding gale. He is shaking so bad from this earthquake experience as he thinks about this event that it only could be called a "seismos".  The best way to define that would be "an earthquake shaking, mammoth, throw you out of the boat storm that I ever experienced in my life both on water and land."
Welcome to March of 2020!   A seismos has just rattled our world!  Just a month ago, the stock market was riding on all-time highs!  Our economic outlook appeared so positive!  The jobless rate was at its lowest! Our stores had full shelves and toilet paper wasn't at a premium!  But all that has changed. Now, many a person with good circumstantial reasons would say, "I'm scared to death!"
Matthew and the other disciples when all else failed had to wake Jesus up because he was resting in the boat.  "Lord save us! We're going to drown!", they said.
Jesus woke up.  The first thing he said was "You of little faith, why are you afraid!"  Jesus then got up and he rebuked the winds and the waves and it was completely calm!
Matthew knows that we don't live by circumstances but by faith! I read somewhere that Jesus gave 125 commands in the Bible.  Of those 125 commands, 21 of those reminders were commands to "Fear Not!".   The next most quoted command was to love God and neighbor appearing 8 times.  Matthew recorded many of those "fear not" commands.
"So don't be afraid. You are worth much more than many sparrows" Matt. 10:31
"I tell you not to worry about everyday life-whether you have enough" Matt 6:25
"Do not fear those who kill the body but cannot kill the soul"   Matt 14:27
"Take courage. I am here!" Matt 14:27
Jesus knows us so well!  He knows that small little quivers can propel us into fear along with great "seismos"" events.  March 2020 is going to be remembered as a "seismos" month!   We have got to plant our feet on the solid ground of faith and not fear.  This is going to be an experience that all of us will be telling our children, grandchildren, and great-grandchildren.  How are we going to describe the event? Will it be "I was scared to death"? Or will it be "Yes I was scared….but I was scared to life!  The life that I have in trusting God that no seismic storm could shake!   I choose faith not fear!   How about you?
Prayer:
Lord Jesus, you are the calm in the storm!  All around me the world is saying "Pandemic" which sure sounds like panic.  You stood up in the boat and you calmed the storm.  I pray that you will first stand up in the deepest part of my being to calm my storm.  Then help me stand up in the world around me, filled with your peace and calmness, to be your anchor in the storm!    In your powerful and precious name, I pray.  Amen