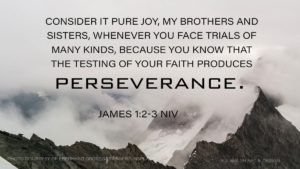 "Now you are the body of Christ,
and each one of you is a part of it"
I Corinthians 12:27
Consider it Pure Joy!
April 3, 2020 by Bill Adams
James 1:2-4
"Consider it pure joy, my brothers and sisters, whenever you face trials of many kinds because you know that the testing of your faith produces perseverance. Let perseverance finish its work so that you may be mature and complete, not lacking anything."
Have you ever been joyful when hard times have come your way?
I often think of what it means to live in this unique time in history, and how blessed we are to be living where we do in the United States. Most people down through the ages have had to wake up each morning with uncertainty related to their safety, health, and where their next meal would come from.  Even today, people living in the developing world or in troubled countries have to be concerned over the uncertainty of not having adequate food and shelter each day, in addition to often fearing for their family's physical safety.
But that's not the case with us. Even during this uncertain time, most of us have access to food and shelter and emergency health care, even if we are temporarily inconvenienced by the "stay at home" order.
One of my favorite books in the Bible is the book of Job. He may not have had the modern conveniences that we have, but Job's life was in many respects very much like ours. He basically had it made. And, like us, he also made every effort to be faithful to his God, praying regularly for his children lest they stray. He was a great guy!
But what's easy to sometimes forget, is that it was for that very reason that Job's life was turned upside down. He had it made because of God's protection and blessings in his life. Now it was his turn to prove his faith. It took some time for him to realize that he could handle it, but there was no doubt about the eventual outcome! God allowed him to be tested… and we know the rest of the story, which leads us to the passage in James.
James goes beyond just reminding us that we can handle trials that may come our way. He goes so far as to challenge us to "consider it pure joy" when we face these trials.
It reminds me a bit of what we tell athletes in training… no pain, no gain!  In this case, the gain that we are looking for is to become "mature and complete, not lacking anything."
As the Scriptures tell us in Romans 8:28 – 29, being mature and complete means to be conformed to the image of Christ, and that's going to take time and effort.  So, in this world, we can be confident that we will face trials (John 16:33).
Our world is going through a time of uncertainty, and for the time being our lives have been turned upside down. The nation of Israel experienced similar uncertainty during the time of the prophet Habakkuk. Like Job, Habakkuk also questioned whether God was still in control. Graciously God revealed Himself to Job as well as to Habakkuk so that in the end they were both able to rest in the knowledge that God loved them and was, in fact, fully in control.
The same is true for us today! Regardless of what may happen in the days and weeks to come, you can be confident of that!
Prayer (Habakkuk 3:17-19)
"Though the fig tree does not bud and there are no grapes on the vines,
though the olive crop fails and the fields produce no food,
though there are no sheep in the pen and no cattle in the stalls,
yet I will rejoice in the Lord, I will be joyful in God my Savior.
The Sovereign Lord is my strength;
He makes my feet like the feet of a deer,
He enables me to tread on the heights."